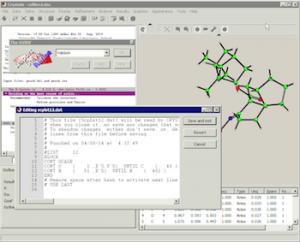 The CRYSTALS v14.5481 installer is now available.
This update fixes usability problems related to new features in the latest series of releases. There may be a problem with OpenGL rendering on ATI graphics cards – please report problems if you see any 'artefacts' while viewing crystal structure models.
Version 14.60 onwards are built with a new compiler and libraries – therefore please report any unusual installation or usage problems.
Note the slight change in version numbering (v14.62 -> v14.5481) The minor component now refers to a specific snapshot of the source code enabling us to better identify and fix bugs in older releases.
Changes
See v1460 release for more changes.