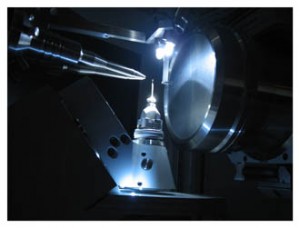 There are three components to the Oxford Chemical Crystallography Service:
The Chemical Crystallography Service comprises four diffractometers:  two Nonius Kappa-CCD Diffractometers and two Oxford Diffraction/Agilent SuperNovae.  In general, "hands on" users are initially given a H&S induction before undergoing general crystallographic training on the Nonius Kappa-CCDs.  Training includes:
Sample handling appropriate to the compounds studied
Data collection techniques
Data reduction
Space group determination
Structure solution
Structure refinement
Validation
Publication
In addition to the in-house instrumentation, the Departmental Service also has regular access to synchrotron radiation using I19 at Diamond Light Source through an award under the Block Allocation scheme.  This enables determination of some of the most challenging structures which would not otherwise be possible.
For further information, contact Dr. Amber L. Thompson for details.